While many tech lovers debate why their preferred devices are Android or iOS, the fact remains that one continues to dominate the Mobile Apps market share. In this blog we will share some facts that will be useful in helping you decide which operating system might be best for your Mobile App.
Mobile apps are playing a dominant role in every industry and catalyzing growth and expansion for many businesses. The increase in need for custom app development is the biggest testimony of the growing popularity and demand for mobile apps. When it comes to mobile operating systems, Android and iOS are the two key players that cover almost all of the market share globally.
Operating Systems are the lifeline of any device. However, the proliferation of smartphones has made mobile operating systems more popular than desktop operating systems over the years. Google owned Android and Apple owned iOS are the two most popular mobile operating systems that are ruling the world.
Android emerges as the global leader here for many reasons. Android comes with more device options, more affordable and flexible infrastructure, and the assurance of Google. These are some of the factors that make it the most popular in almost every country across the world.
However, iOS eats up quite a big share of the industry in more niche markets and first-world countries due to its esoteric appeal. It remains within the reach & feasibility of fewer people due to lesser and expensive options in terms of devices, apps, etc.
Therefore, when we look at the global stats, we find that Android alone covers almost three-fourth of the market, whereas iOS covers almost the rest of it. The two operating systems together rule the market with more than 6 billion users spread across the world.
Operating systems ultimately run upon different kinds of devices like desktops, tablets, mobile phones, etc. Therefore, understanding the popularity of different operating systems across different devices can tell a lot about their hold in the market.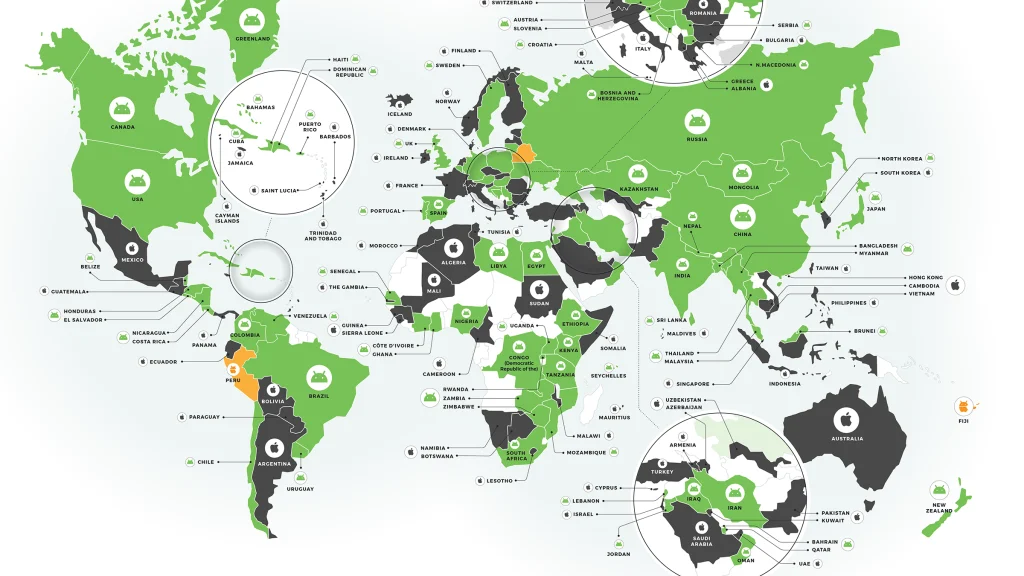 As per the latest reports from Statcounter, Android has a worldwide hold of 71.45% whereas iOS holds 27.83% share of the global mobile operating system market.
The tables turn when we consider the popularity of different operating systems across tablet devices. iOS emerges as the leader here with 53.63% as iPads are likely the most popular tablet device in the world.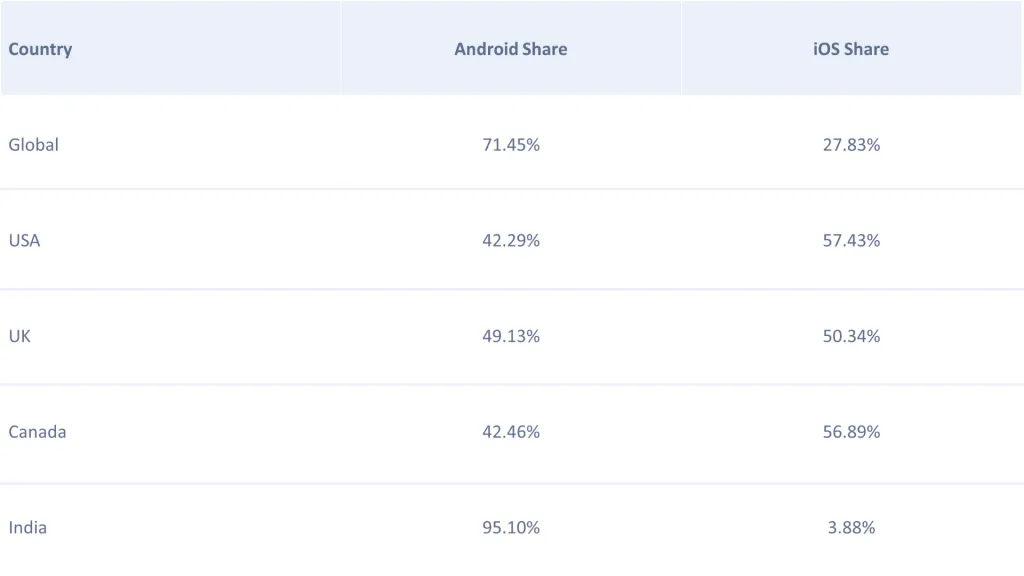 As far as the Android device vendors are concerned, it is noteworthy that Samsung has been the leader since the very beginning days of Android. Latest statistics show that China-based manufacturers are responsible for over 55 percent of the Android market share. The top players also include Xiaomi, Huawei, Oppo, Vivo, Motorola, & LG among others.
Android wins the title of the platform for most apps, but iOS attracts and earns more revenue.